Reposted from Brigham Clinical & Research News
By Abaraar Karan, MD, MPH
25 February 2019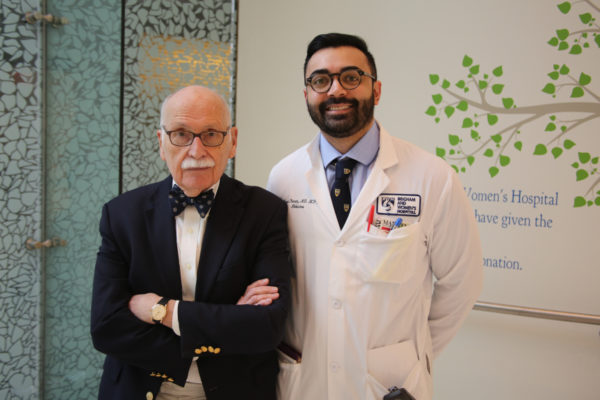 Next Generation is a Brigham Clinical & Research News (CRN) column penned by students, residents, fellows and postdocs. This column is written by Abraar Karan, MD, MPH, a second-year resident in the Department of Medicine and the Doris and Howard Hiatt Residency in Global Health Equity. He was recently named a 2018 40 Under 40 Healthcare Innovator by MedTech Boston, as well as a 2018 STAT News Wunderkind. If you are a Brigham trainee interested in contributing a column, please email bwhclinicalandresearchnews@partners.org.

As a child, I remember summer trips to Hyderabad, India—the city where I was born but had only spent a few months living before moving to the U.S. More than the sweltering heat and buzzing mosquitos, I remember the human suffering. It was hard not to—people in search of money and food would constantly tap at the window of our car while we were stuck in bustling traffic. They would tug at my pants to get my attention as I walked by while holding my parents' hands. They were visible, yet invisible—almost like we were in two different worlds. But I knew we were not. They were sweating just like I was, under the same unforgiving sun. They were hungry like I was, but they didn't have food most of the time. Their plight was unforgettable, at least to me.
Twenty years later, I found myself in the office of Marshall Wolf, MD, emeritus vice chairman for medical education at the Brigham, interviewing for a spot in the hospital's categorical Internal Medicine Residency. Unlike most interviews, the one with Dr. Wolf was not about board exams or clinical rotations; Dr. Wolf asked me where I wanted to be in the future and what that future looked like for me. Now a second-year Internal Medicine resident at the Brigham, I have been supported from day one by Dr. Wolf and my global health mentors, including Joseph Rhatigan, Jr. MD, the associate chief of the Division of Global Health Equity; Paul Farmer, MD, PhD, chief of the Division of Global Health Equity; and Ingrid Katz, MD, associate director of the Harvard Global Health Institute, in every endeavor, local and global, to make sure that future comes sooner. The Brigham is special in this way. The people here care about your success on a personal level. I try to meet with Dr. Wolf every few months to check in and seek his advice on clinical and non-clinical matters—and I always find myself learning something new through his unmatched experience and wisdom.
Pursuing Global Public Health
Between my childhood trips to India and my eventual match at the Brigham, I had the privilege of working in nearly a dozen countries in many remote regions of the world. Several of my projects were in rural villages—some in India, others in Central America and Sub-Saharan Africa. Despite country-specific differences, abject poverty and ill health were unmistakably linked. You cannot sustainably improve one without addressing the other. While medicine can certainly treat symptoms of illness, it alone cannot treat the root causes of illnesses. But public health may be able to, which inspired me to pursue a career in both clinical medicine and public health and earn an MPH degree at the Harvard T.H. Chan School of Public Health prior to beginning my residency.
Today, my work is focused on addressing social, political and ethical factors that plague global health systems and hamper innovation in impoverished regions. For example, I have written about the ethical challenges of caring for women in sex trafficking—a community with whom I spent a year working in the villages of India. Additionally, I worked with the Centers for Disease Control and Prevention in Mozambique, where I wrote about the role of communication among high-profile political officials in combating the HIV epidemic. I also published a book, Protecting the Health of the Poor: Social Movements in the South, which examines the role of global, grassroots social movements that led to improved health outcomes in low- and middle-income countries.
Creating Opportunity for Others
To help improve public health, my college roommate and I have been working to develop the world's safest, longest-lasting and most effective mosquito repellent to address insect-borne illnesses. We co-founded a company called Hour 72+, which produces a non-DEET (diethyl-meta-toluamide) repellent that uses patented polymer technology to exponentially increase the longevity of repellency with a single use. Recently, we won first place at the Harvard Business School's 2018 New Venture Competition and are currently in discussions with large public health agencies about deploying the repellent for international field testing.
I am also closely following the emerging Ebola epidemic in the Democratic Republic of the Congo and working with mentors from the Harvard Global Health Institute to write about epidemic-response strategy. I am hoping to spend upcoming months working in Sub-Saharan Africa on epidemic response with a government agency.
For many years, my motivation has been linked to a simple idea: Where you live should not determine if you live. I was lucky when I left India as a child—I had the privilege of opportunity and the guidance of a loving family and mentors. Without them, I wouldn't be here. But for many others, I know this is not the case. I have taken care of men my age who died needlessly of preventable and treatable illnesses, such as malaria and HIV, largely because they were poor and powerless. This is not the type of world I want to live in, and I plan to change it in the small ways that I can.
Share this: