Reprinted from BWH Bulletin 17 January 2020
For Nadia Raymond, MSN, MHA, RN, the memory of returning to her home country of Haiti days after the island's 2010 catastrophic earthquake is still painfully vivid. One of the worst natural disasters in the nation's history, the 7.0-magnitude quake left a devastating wake of death, trauma and destruction.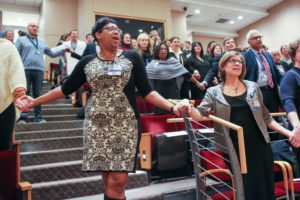 Raymond, a professional development manager in the Brigham's Center for Nursing Excellence and co-leader of EqualHealth's Women's Leadership Roundtable, recalled what it was like gazing out the window during her ride from the airport to where she had been deployed to support the relief effort.
Parks, architecture, the presidential palace, her old high school, a new nursing school — all destroyed in the disaster, which killed an estimated 230,000 people and injured countless more. At that time, Raymond was among the many Brigham faculty, staff and trainees who responded to the humanitarian crisis to support their Haitian health care colleagues on the ground.
Reflecting on the experience during a recent event in Bornstein Amphitheater to commemorate the disaster's 10th anniversary, Raymond said her colleagues' swift, compassionate response and the courage of those affected by the quake gave her hope — a feeling that continues to shine brightly a decade later.
Continue reading "'Our Hope Never Dies': Brigham Honors Haiti Earthquake Victims" →