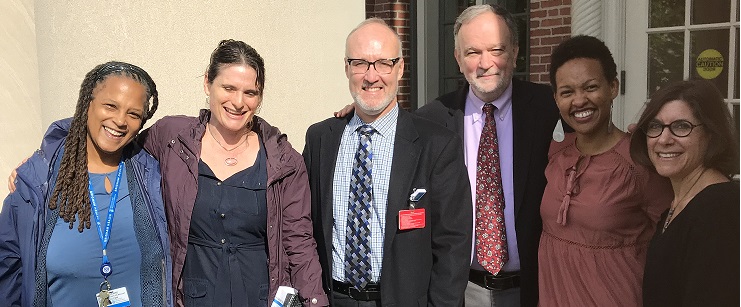 Reprinted from Dr. Betsy Nabel's BWH President's Perspective 28 February 2019 and
BWH Awards and Honors 22 February 2019
For so many of our most vulnerable patients, it's clear that addressing large-scale inequities requires a disruption of the status quo. Members of our Brigham community are doing just that as they work to resolve some of the root causes of insufficient care among underserved populations, with support from the Department of Medicine's new Health Equity Innovation Grants Program. The seven recipients of the department's inaugural Health Equity Innovation Grants are leading projects designed to advance health justice for a diverse group of patient populations and develop solutions for addressing barriers they face in accessing care. One project, for example, aims to create best practices for collecting information on a patient's history of incarceration. Another will focus on addressing racial, ethnic and socioeconomic disparities in lupus care.
In the words of Joseph Loscalzo, MD, chair of Medicine and physician-in-chief, "An equity lens allows us to improve care for all our patients. With this belief in mind, the department is committed to an honest appraisal of care and a willingness to imagine a care improvement strategy that addresses factors leading to disadvantage, including race, age, gender, post-incarceration status, experience of trauma and others."
Spearheaded by the department's Health Equity Committee, the goal of the HEIP is to engage and support population-based research or program implementation that measures and addresses care inequities. Selected projects are action-oriented — aimed at supporting meaningful measurement and evaluation of existing patient care inequities and rapidly developing responses to improve quality and effectiveness of care for the most marginalized patients. While based in Department of Medicine, most projects cross divisions and departments; several may serve as pilots for potential hospital-wide improvement.

The Health Equity Committee was chartered in 2017 Dr, Loscalzo with the vision of advancing the department's commitment to health equity by engaging key internal and external stakeholders in a structural analysis to address health inequities in the department and community, which will inform and influence hospital-level strategy.

The committee is co-chaired by Michelle Morse, MD, MPH, assistant program director of the Internal Medicine Residency Program and associate physician in the Division of Global Health Equity, and Tom Kieffer, executive director of Southern Jamaica Plain Health Center. Jennifer Goldsmith, Director of Administration and Programs in the Division of Global Health Equity serves leads program implementation.
The grant recipients and winning projects are:
Rob Boxer, MD, PhD, Division of Internal Medicine: "Reducing Structural Inequities in Heart Failure Management: An Approach to Improve the Quality of Heart Failure Care on the General Medicine Service"
Candace Feldman, MD, ScD, Division of Rheumatology, Immunology and Allergy: "Addressing Racial, Ethnic and Socioeconomic Disparities in Lupus Care Through an Integrated Care Management Program Pilot"
Laura Frain, MD, MPH, Division of Aging: "Targeted Geriatric 'No-Show' Home Visits for High-Risk, Vulnerable Older Patients in the Phyllis Jen Center for Primary Care"
Monik Jimenez, PhD, Division of Women's Health: "Developing Best Practices to Collect Information on Past History of Incarceration"
Annie Lewis-O'Connor, PhD, MPH, NP-BC, Division of Women's Health: "Advancing Trauma-Informed Education into Clinical Practice for Adults: A Curriculum for the Hospital Staff"
Mallika Mendu, MD, MBA, Division of Renal Medicine: eGFR Race Reclassification Project
Evan Shannon, MD, MPH, Division of General Internal Medicine and Primary Care: "Racial Disparities in Inter-hospital Transfer"
Bram Wispelwey, MD, MPH, Division of General Internal Medicine and Primary Care: "Reducing Structural Inequities in Heart Failure Management: Understanding and Addressing the Drivers of Admission Service Decisions"