Reprinted from BWH Clinical and Research News 8/8/2019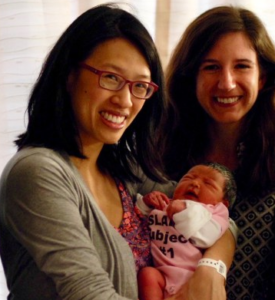 In many ways, Anne CC Lee, MD, MPH, has dedicated her life to empowering and advocating for others. As a pediatrician specializing in newborn medicine, she spends her clinical hours caring for infants in a hospital setting. As a researcher, she directs the Global Newborn Health Lab at the Brigham, where she leads efforts to improve maternal and newborn health. As a mentor and a mother, she inspires and cultivates personal growth in those around her.
Through her work in global maternal-newborn health research, Lee seeks to delineate the major causes of newborn and maternal morbidity and mortality in low-income settings. Based on these findings, she and her team work to design interventions to improve health outcomes.
"There are huge discrepancies across the globe in terms of access to basic health care, which result in huge disparities in morbidity and mortality," said Lee. "The research we do in our lab is focused on reducing inequities in maternal and newborn care."

A Personal Quest for Equitable Care for Neonatal Jaundice
One of Lee's projects involves the development of a novel, low-cost screening tool to detect hyperbilirubinemia in low-income settings.
Hyperbilirubinemia, more commonly known as jaundice, occurs because of increased serum bilirubin concentrations from excessive red blood cell breakdown after birth. If diagnosed early, jaundice is treatable with phototherapy and has no long-term effects on health. However, if diagnosed or treated too late, it can cause devastating brain injury, lifelong impairment and death.
For Lee, the impetus behind this work derives not only from her role as a researcher — but also as a mother.
"This particular project is very personal for me," she said. "Two of my children had hyperbilirubinemia that required phototherapy. My son's hyperbilirubinemia was quite severe; he escalated quickly within 36 hours of life."
She recalled the stressful experience of her son's early illness, while expressing a deep recognition for her position of relative privilege. As a medical trainee at the time, Lee knew to look for signs of hyperbilirubinemia, particularly given that her son had several risk factors for developing severe jaundice. After an early hospital discharge, she requested to have his bilirubin level rechecked the next day, and his bilirubin levels were so elevated that he was re-admitted to the hospital and received phototherapy for several days, resulting in full recovery.
Though jaundice is perceived as largely manageable in the U.S., it continues to cause severe impairment and even death in low- and middle-income countries (LMICs). One primary barrier to care is the lack of access to affordable and reliable measurement of bilirubin concentrations to screen for the condition before the onset of irreversible symptoms.
"For my son, there were no gaps in accessing quality health care. I was a hypervigilant mother and sought care quickly. When we reached the hospital, he had a blood test in the emergency room and started phototherapy immediately," she said. "But, if he had been born in any of the rural communities in Bangladesh or Ethiopia where I work, he may likely have developed lifelong disability or even died. There's no reason my son should be able to access this care while others can't, simply based on the luck of where one is born. Every baby deserves the equal opportunity for a healthy start in life."
The Advent of the Bili-ruler
With this health disparity in mind, Lee and her lab team designed the Bili-ruler, a novel tool to screen for jaundice in low-income populations. The Bili-ruler is a small, handheld device with color strips arranged in an increasing gradient of yellow hue.
The tool is used to assess for the degree of jaundice by blanching the skin on the infant's nose and matching the underlying skin hue to the closest color strip on the ruler. The purpose of the Bili-ruler is to aid health workers to more objectively and accurately screen for jaundice and identify babies with potentially significant hyperbilirubinemia. These high-risk babies can then be referred to higher-level health facilities for further evaluation and treatment.
"We went through many iterations of design, colors, and troubleshooting. We were fortunate to have a multidisciplinary and motivated team. Pratik Panchal (post-doc) had extensive digital photography experience, and Lian Folger and Rachel Whelan helped refine the prototype using concepts of human-centered design" said Lee, meticulously examining the newest prototypes for the Bili-ruler that had just been delivered. She recalls the progress made since the first version of the tool, which was assembled in Lee's at-home workshop.
After honing the design, the Bili-ruler was validated in 800 newborns across Brigham and Women's Hospital and the Sylhet Osmani Medical College Hospital in Sylhet, Bangladesh.
Results showed a strong correlation between Bili-ruler measurements and transcutaneous bilirubin concentrations across both populations. The Bili-ruler had high diagnostic accuracy to identify different clinical thresholds of neonatal hyperbilirubinemia.
Lian Folger, program coordinator at the Global Newborn Health Lab, was responsible for coordination of the study and clinical implementation at the Boston site.
Folger reflected on the various skills and opportunities she has acquired in her four years working with the Global Newborn Health Lab. Her projects range from conducting systematic reviews, to performing clinical research and tool innovation, to analyzing epidemiological data.
"I am very grateful for CC's willingness to guide me through these projects," Folger said. "As a practicing pediatrician and global health researcher, CC has been able to offer expertise on both the clinical and research sides of this work."
With the Bili-ruler project, Folger recognized the unique opportunity of engaging from the early stages of developing the tool and clinical validation, to later stages of data analysis, manuscript preparation and presentation of findings.
Recently, Folger won the Discover Brigham Research Excellence Award for her poster presentation on this work.
"I felt like an extraordinarily proud parent when Lian won the Discover Brigham award for outstanding research and texted the news to everyone," said Lee. "She is so deserving of this recognition — extremely enthusiastic, hard-working, caring and always goes above and beyond. When I first met her, I knew that she would be the perfect person to lead this work and interact with mothers and babies at the Brigham."
Lee reflected on the importance of mentorship, and of the value of cultivating and fostering the next generation of leaders in research.
"Early in my career, I was fortunate to identify several mentors that helped guide my training and direction and provide unique opportunities in global health research," said Lee. "It has been extremely rewarding to pay forward the amazing opportunities that I have had."
A leader by example, Lee continues to empower and support individuals on their respective paths toward flourishing.
"The work ethic that CC models, coupled with her empathy and compassion, is a force to be reckoned with," said Folger. "She has helped me to grow not only as a researcher, but also as a person.